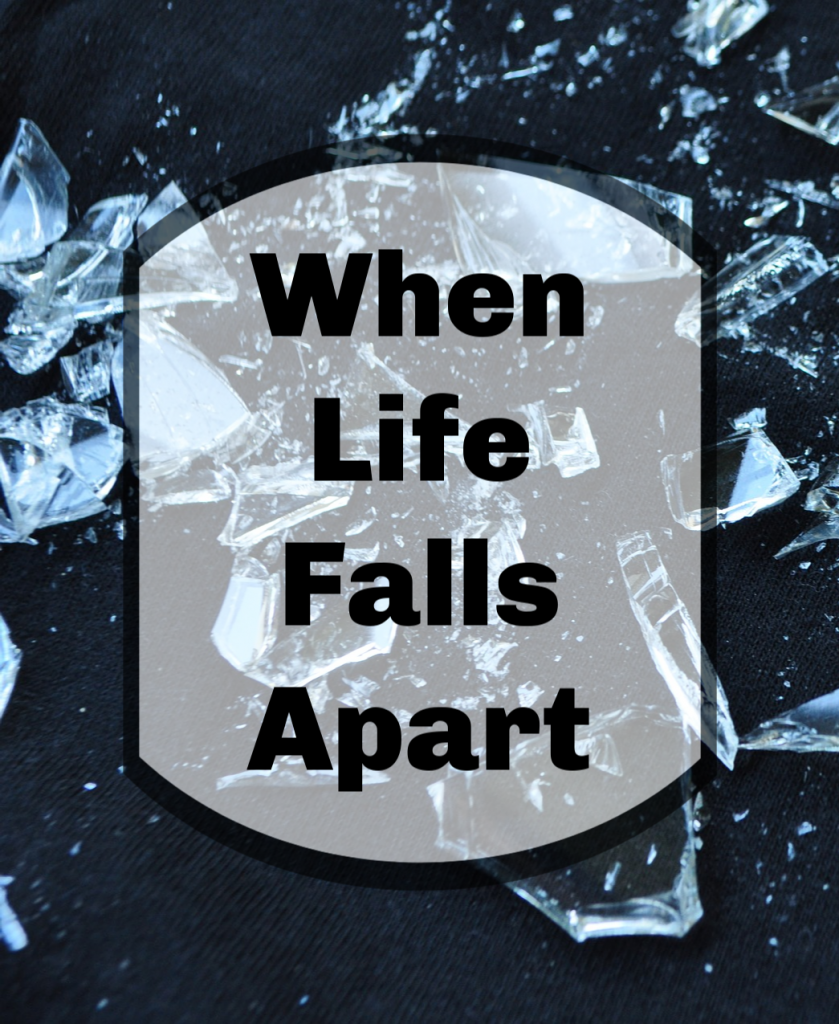 When something in life happens that pulls the rug completely out from under you, things can get pretty ugly pretty quick. Your whole world seems to shatter around you and there is absolutely nothing you can do about it. There is no steadying yourself or jumping back up on your feet right away. You are simply falling like Alice down the rabbit hole snatching up whatever pieces you can get your hands on. I have had this experience twice in my life now. It's not any easier the second time, but I at least I'm a little more prepared and supported.
The first time my life fell apart was when my high school sweetheart – the guy who had planned to marry me and have kids with me – told me that he had never loved me the way I loved him. He was gay. Everything I had ever believed in fell away at that moment. My faith, my belief system, my strength, my whole reason for existence – gone. I spent the next two to three years in a complete fog – the beginning of which I truly do not remember. It was traumatic for me. The one ray of sunshine that came out all that was my daughter, Paix. She literally saved my life by being born. She gave me something to focus on, something to have hope in – being a good mother.
Life got better – not easier – but better. Then I met my husband. I had received a few marriage proposals in the past but he's the one I chose. He loved my daughter and he loved me. I thought I had found my forever partner. Apparently, that wasn't meant to be. After twenty years of marriage, he has asked me for a divorce – out of the blue seemingly. There goes the rug again.
Things are different this time though. Like I said earlier. This time I can't afford to for my brain to go AWOL. I can't let myself slip into the black hole and stay there. I have the kids – I have Ry – to think about. On the upside however – I have a lot more emotional support this time around. When you are young like that, people expect that your heart will be broken. And besides, it was just high school puppy love, right? Twenty years of marriage – that is easily understood as being devastating. The outpouring of love I've received over the past few weeks has been extremely humbling. I have been brought to tears many times by kind words and friends sharing stories of their own struggles. I don't deserve so much but I appreciate it beyond words.
So, what is there to do to nurse your world once it falls apart? I've been trying to figure this out and I'll share what I've done so far. Not sure how mentally healthy some of it is, but it's helping me push ahead. A girl has to do what a girl has to do in order to get through a day.
Reading – I've been reading A LOT lately. Anything I can find for free under Kindle Prime as well as some other books that I have laying around. I've gotten a couple from family members, too, that are meant to help with dealing with bad times. Reading is an escape. I don't have the chance to think when I'm reading. My mind is too focused on the words to think about what is going on right now or what I need to do or how I can fix whatever. It puts me in a different world where I can be someone else for a while.
Talking to people – I'm not much for telephone conversations. Most in my extended family can tell you that and I've lost touch with several friends because it is emotionally stressful for me to participate in a phone call a lot of the time. (It is a totally irrational fear, I know.) But – considering that my life is a big ball of stress right now, the phone doesn't seem as scary as it would normally. I've actually been talking to people. I cry a lot of the time – but it does make me feel better once the conversation is over with usually. Another way to get outside of myself for a while.
Getting outside – This may include walking a little around the neighborhood, but mostly sitting on the back deck watching the birds and squirrels. Getting in touch with nature, so to speak, can be very calming. I used to have a bunch more trees in my backyard before Hurricane Matthew came through, but it's still nice to look at the animals in the trees and bushes that are still back there. I'm hoping I can convince myself to do a little weeding or landscaping with my current interest in being outside. The depression is still around and making even simple tasks seem monumental, but if I can force myself to do something where I can see a beautiful end result, it may help me all around.
Decluttering – This actually started as going through everything to weed out Eric's possessions, but has actually turned into an exercise in general decluttering. I'm cleaning out the old in order to accept the new. It's a slow process, but it does make me feel lighter to have several bags or a couple boxes of items stacked to go to Goodwill or a yard sale when I get done. Hopefully this will lead to me starting and finishing projects around the house again like I used to.
Writing – This blog is only part of the writing I'm doing. I journal, too – and have written letters/emails I never mean to send. All in an effort to get out the emotions that I have building up inside. Writing is therapeutic to me. It helps me focus and organize different lines of thought. This post, for example, is helping me realize all that I am doing to keep myself from falling over the edge and what an accomplishment that really is. It's good for my soul.
Praying – When all this first started, I was mad at God. Extremely mad at God. How could He let this happen to me? How could He stand by and watch my heart break so completely – again? Of course, He is greater than that and quietly let me know so. I have continued since then to pray and know with confidence that He is with me – supporting me, guiding me, helping me make it through each day. One thing I have learned over the years – I may turn my back on Him, but He has never, EVER turned His back on me. I take extreme comfort in that.
I am doing everything I know to do to keep myself from falling into the black hole. Yoga is on the agenda to start taking seriously but hasn't happened yet. Thinking that may do a world of good also. Eventually this knot in my stomach will dissipate. Eventually I'll be able to go a day without crying because of the emptiness that will suddenly overtake me. Eventually I will laugh again. Eventually life will return to some sense of normalcy – the pieces being put back into some sort of peaceful order. Until then I will keep doing what I know to do to keep me sane.