How well do you remember Christmas as a child? How many Christmases do recall exactly what gifts you received? I've been thinking over all my Christmases past and have realized that I don't remember very many of the gifts. What I remember most is the time with family and the things we did together.
To be fair – I do remember some gifts. When I was about six or seven, Santa gave me a Bionic Woman doll – it was awesome!! (Also shows my age, but whatever.) When I was older (in middle school), my mother gave me a stocking full of my first real make up – again, awesome!! There were a few more I remember but not with the same clarity. Not real sure why those particular gifts stick out to me – especially the Bionic Woman doll. The makeup I kind of understand because it's almost a female rite of passage. The main point though – of all the Christmases over the years the gifts very rarely mattered.
There are only a few things I remember from my early Christmases. I remember when I was very young making Christmas ornaments with my mother out of egg shells. We blew the yolks out, cut an opening in the side and filled them with cotton. Then we cut pictures of the nativity out of old Christmas cards and put them in the cotton. We finished them up by putting ribbon around the openings and putting clear glitter on the outside. They lasted a very long time considering how fragile they were. We also made an angel to put on the top of the tree out of a dish soap bottle, felt and a doll's head. I still have that angel. Every year my grandmother (my dad's mother) would make me a ceramic ornament with the year and my name. Even after she stopped making them herself, she would still get me an ornament that had my name and the year. I still have all of those too.
My parents divorced when I was nine, so Christmas after that was actually kind of stressful. The divorce agreement was set up so that my brother and I would spend Christmas Eve with alternating parents each year and be picked up by the other on Christmas Day. Some kids would say, "Cool – double the gifts!" In reality, the "extra gifts" weren't worth the anxiety the holidays could bring. My brother and I would secretly pray every year that there would be no ill or sarcastic words between our parents that would ruin the magic of the day. Some years we got our wish, other years… not so much.
Even though there was an undertone of unease on Christmas Day, we still enjoyed the traditions and had fun times with our family – both sides. With dad, we participated in our church productions throughout the month whether it be singing in the children's choir, acting in skits or ringing bells in the bell choir. It was a big church with big productions! Christmas Eve (or Day depending on which time we had with him) was spent feasting and opening presents at my grandparent's house followed by a drive around town to look at Christmas light displays. One of our favorite things to do was count the number of Santa Clauses in front of each house to see who had the most. One year the number was up in the 20s – an insane number of Santas in one yard!! (I still secretly do this in my head while driving looking at Christmas lights with my own family. People just don't decorate the way they used to though.)
When we were with mom, Christmas Eve was spent eating Christmas Fish in Swedish tradition. (My grandfather was born here in American to Swedish immigrants.) If we were in Florida on Christmas Eve, we would visit my Uncle Eddie (my grandfather's brother) and Auntie Ethal, where Santa would come early and pass out gifts to the younger cousins. Later, when we were older, he would just leave a big box with all the gifts on the front doorstep before ringing the bell and taking off. There was always something – albeit small – for everyone there. Christmas Day was usually spent with my grandparents there in Florida. These grandparents would have the whole family over for a true southern style Christmas buffet! Cousins, aunts, uncles – no matter how distantly related would show up. Family being together was the most important part of the holidays for that side of the family.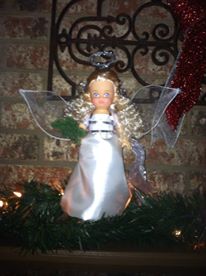 Now that I am grown and have a family of my own, I still make sure we celebrate some of the ways we did as a child. We have crafted our own ornaments and angel for the tree. I try to have the Christmas Fish every Christmas Eve. It doesn't happen every year, but most. We drive around and look at Christmas Lights on Christmas Eve then come home to open one gift before bed – new pajamas from me. (The kids actually look forward to it every year! Crazy but true!) Christmas morning the Christmas music gets turned on and stays on all day. We each take turns opening a gift until they are all open while eating a specific breakfast of sausage and cream cheese biscuit cups. The rest of the day is spent vegging until dinner.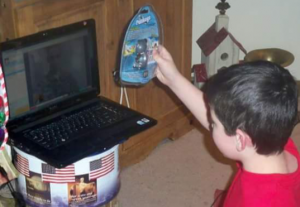 Even when Eric is deployed, I try to keep the same routine. Thanks to technology, Eric has been able to share the morning with us via video chat the last couple of Christmas mornings without him. Those times are my saddest Christmas memories. Deployment Christmases have their own traditions though. We always send Eric his own small tree complete with lights and decorations and I try to send him wrapped gifts to put "under" it. It's nice when he can open gifts with us instead of just watching us on the computer screen. Our own tree on these years is dubbed the "deployment tree" as we only put red, white and blue ornaments or ornaments that have unit insignia on it. My absolute best Christmas memory was the year Eric almost didn't make it home for Christmas like he was supposed to. He was deployed and was set to come back a few weeks before Christmas, but his orders were changed at the last minute and he was told that it would be mid-January before he could come home. We were devastated. Yet after much prayer and complaining, a Christmas miracle occurred and he was allowed to come home two days before Christmas. Best Christmas present EVER!
Christmas has changed a lot for me over the years, but not the desire to share it with family. I can only hope that as my kids venture out into their own lives and families that we have made some great memories for them to share with their children. I also hope they realize that I will crash their homes if they don't come to our house! 😉